Breastfeeding Back to Work
Employees who become new parents want to do the best for their baby and their job. Now they don't have to choose between the two. Colorado is the 16th state to pass legislation regarding breastfeeding support in the workplace. The Workplace Accommodations for Nursing Mothers Act went into effect August 2008. Colorado employers are required to make the following accommodations for breastfeeding employees: 1) provide reasonable time (unpaid or paid break and/or meal time) for mothers to express milk at work, 2) make reasonable efforts to provide suitable, private space for this purpose and 3) not discriminate against women for expressing milk in the workplace
Each breastfeeding or milk expression session usually takes 15-20 minutes. Breastfeeding employees typically need no more than an hour per work day to express milk, which can be paid break & meal time, or unpaid break time. If milk expression takes longer than expected, a common solution is to allow employees the flexibility to come in early or stay late.
A private space, not a toilet stall or restroom, shall be available for employees to breastfeed or express milk. If you cannot dedicate a small private room, be creative! Mothers have used: a conference room, a vacant office, a storeroom, a dressing room, a supply room, a server/IT room, and a cubicle area with privacy screen or an employee break room (temporarily). The lactation room, #205 in the Touber Building and the creative, inexpensive temporary space at Amicas Pizza are just a couple ideas for other work places.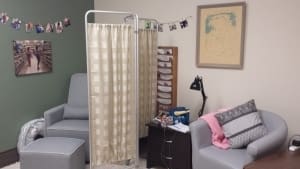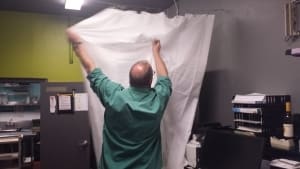 Support and flexibility from managers and co-workers, enables parents to successfully return to work and reach their breastfeeding goals. A written breastfeeding policy will ensure support, standardize implementation, and minimize confusion and debate. I can provide your business with a basic, one-page sample lactation policy.
Providing support is temporary. As babies grow and begin eating solid food, milk expression requirements gradually diminish.
Research proves that employers who provide a supportive environment to help parents continue to breastfeed after childbirth enjoy many benefits that directly affect profits. These include: lower health care costs, improved loyalty and retention rates, lower absenteeism, higher employee productivity and moral and positive public image to customers, potential employees and in the community.
Supporting breastfeeding is good for employees and their families. When an employee returns from maternity leave, they wants to be a productive and profitable employee and a good parent. The American Academy of Pediatrics and many other health organizations recommend exclusive breastfeeding for the first six months and continue breastfeeding for at least a year or more. Research shows that breastfed infants are significantly less likely to suffer from illnesses, infections and obesity, and mothers who breastfeed also enjoy significant health benefits, including faster recovery from pregnancy and reduced risk of breast cancer and osteoporosis. It's no wonder that more than 70% of new parents today choose to breastfeed. Yet many are concerned that returning to work will be an obstacle to continue breastfeeding.
Who can help?
• Chaffee County Public Health
• Chaffee County Breastfeeding Coalition https://www.facebook.com/ChaffeeCountyBreastfeedingCoalition/
• Colorado Breastfeeding Coalition
• La Leche League Salida
Lorraine Redmond, IBCLC lredmond@chaffeecounty.org
International Board Certified Lactation Consultant
Breastfeeding Project Coordinator for Chaffee County Public Health